Top Tribute Acts and Wedding Bands Based in Northern Ireland
Themed Entertainment Agency
Helping you book the best Tribute and themed bands in Ireland
Musicon Entertainment Agency supply some of the top tribute and themed party bands based in Northern Ireland. Book a top Tribute band from the soulful 60's Motown, 70's & 80's Disco to popular themed cover bands and everything in between.
If you are an party nights event planner, venue, private hirer or a couple searching for a unique wedding entertainment, we supply it all. It's all going on at Musicon…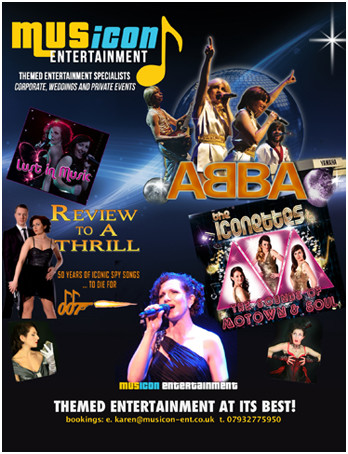 Entertainment Acts Management & Agency covering all Ireland & UK
TRIBUTE BANDS AVAILABLE FOR HIRE – NORTHERN IRELAND & REPUBLIC OF IRELAND
Themed wedding band & tribute entertainment ideas to impress your guests!
Musicon Entertainment Agency provide some of Northern Ireland's most well known tribute bands, producing the best in themed entertainment across UK & Ireland. Our tribute acts and themed bands are available for small to major large scale events, weddings, festivals and available to for corporate functions 7 days a week.
At Musicon Entertainment, we offer a friendly and trustworthy client driven service. We are a most unique entertainment talent agent supplier based in Belfast. As the only entertainment agency who produce shows by first class professional performers, creating work for our own Artistes 'in house' ensuring that quality & passion for entertainment supplied is at the top of our agenda from the booking process right through the performance for events and selling out theatre venues across Ireland and UK since 2014.
The high quality standard of performances given by our bands has quickly gained us a trusted reputation for offering nothing short of professional excellence. When you book a band from our selection of unique 'inspired themed & tribute band entertainment, you will go home taking about us for all the RIGHT reasons!
WHY ARE WE UNIQUE?
We 'the Artistes' produce, manage & perform in and supply all our shows and acts supplying entertainment directly to you.
BENEFITS IN BOOKING A BAND DIRECT
The benefits are not only yours in terms of budget as there are no hidden fees on booking our 'managed acts'. You also have direct contact with the band managers from the beginning of your enquiry, making the process of booking much quicker aiding in the smooth running of your event.
Book a band through Musicon Entertainment – Northern Ireland's premier themed entertainment agency or one we can outsource and supply to you, ensures that you are guided in making the most informed choice of entertainment suitable for your event, for all the right reasons. Quality & professionalism and 'excellence in performance' is paramount.