Welcome to the official website for Musicon Entertainment
Tribute Acts Management and Entertainment Agent Northern Ireland
Musicon Entertainment and Productions supply some of Ireland's top tribute acts and theme styled entertainment for any event. As a full time production company, all our efforts are dedicated to recreating and performing and paying tribute to your favourite 'music icons' & themes, enhancing your special event. Our company is ran by professional, established artistes in the entertainment industry creating work for Artistes. Musicon Entertainment founding Artists have been producing tribute shows and supplying bands to sold out audiences across the UK & abroad since 2011.
Musicon Entertainment has quickly gained a trusted, reliable and professional reputation, offering nothing short of excellence when supplying tribute acts and other entertainment for weddings, corporate events, headling and supporting acts for festivals and are classed amoung the elite as successful show producers and promoting concerts for UK and Irish Theatre.
Founder, Creative Director and Manager
Musicon was officially launched as an 'in house' production platform by Karen Rush in 2014, off the back of the continued success of it's premiere show – The Bjorn Identity Abba Tribute of which Karen and production and technical manager,  husband Richard Doubleday are both members. Soon followed a second show – The Iconettes & The Hitzvilles showcasing the best of Motown girl groups, establishing Musicon Entertainment as a producer of high end tribute shows for Corporate events and Theatre in Northern Ireland.
With over 20 years professional experience in all facets of the entertainment industry, Karen is not only a diversely talent singer, actress and front women in her own right but is the creative visionary, director, choreographer, producer, promoter and band manager to Musicon's most popular tribute acts assisting in the smooth running of your events with care and attention in all that is delivered.
Karen is the beating heart of Musicon Entertainment pumping passion, creative artistry and acting mentor to all our acts represented today, and brought to life brilliantly by a fantastic family of like minded professional musicians, singers and technicians. Carrying professionalism, quality and musical brilliance through to every client as the up most priority. This passion for high quality entertainment is reflected right back from our happy clients who return to re-book our acts that really deliver, year after year.
PROUDLY SUPPORTED BY ARTS COUNCIL OF NORTHERN IRELAND
2020 saw the entertainment industry completely wiped out for 18 months and is still in its recovering phase as we learn to live and work within the lasting and damaging effects of the covid 19 virus.
Musicon Entertainment managed by Karen Rush had been a grateful recipient of the Individual Resilience Emergency Programme & Creative Individuals Recovery Programme. These emergency support & project grants were vital in supporting our continued presence and help develop and maintain vital skills and adapt adapt to the new market conditions that have been brought about as a result of Covid-19.  Enabling and assisting us in returning to the Arts industry once the government opened up society once again.
WHY ARE WE UNIQUE?
We are the only entertainment company in Northern Ireland that produces our own show. As the Artistes, we manage, produce and supply acts direct to you. Entertainment & other musical acts outside our management can also be sourced and supplied to you. Booking through us, as passionate and  experienced entertainers mean we will ensure you make the best and most informed choice of entertainment for your event.
CORPORATE ENTERTAINMENT IRELAND
Musicon Entertainment provides entertainment for all types of corporate events, business award dinners, and Gala events across Ireland. with clients returning year after year to re-book one of our top function bands based Northern Ireland.
Industry experienced and full time professionals in entertainment. We adopt a friendly and flexible approach, making us the perfect choice of entertainment suppliers in Ireland. Check out our testimonials to see what our happy clients think of us.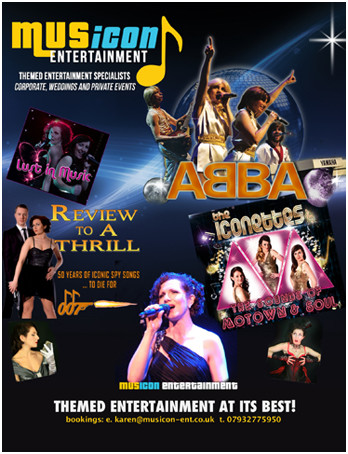 Read our 100% – 5 star reviews and decide for yourselves
Tired of seeing the same acts and bands all the time and are looking for something completely different to make your event stand out from a crowd
** You have been disappointed in the last act that performed or supplied to you
** All entertainment we supply is professionally vetted by us before recommending to you.
Visit OUR TRIBUTES and check out their videos, audio and images to help you decide
*Remember we manage and perform all the acts… therefore we are not an agent. Save yourself time and hassle and book our acts direct.
Its all going on at Musicon! …. so let US entertain YOU!