MANAGED & PRODUCED BY MUSICON ENTERTAINMENT
Motown Tribute band – The Iconettes are an iconic 60's styled tribute act, close harmony vocal girl group plus full live band, available for weddings, corporate  events, Festivals & supper clubs throughout Ireland & UK.
The Iconettes Motown & Soul Band
The Iconettes are Northern Ireland's only female vocal group fully dedicated to the sounds of Motown & Soul, delivering a decadently soulful yet quirky show, suitable for music fans of all ages.
Featuring hits songs from The Ronettes, The Supremes, Martha and The Vandellas, Tina Turner, Aretha Franklin, Diana Ross and much more, this exciting musical homage pays tribute to the best 'girl groups' and 'solo artistes' of this bygone era.
The Iconette's glamorous style & influences make this show a popular choice for lovers of Motown & Soul music. With power-house vocals and tight harmonies, The Iconettes and their band perform an entertaining yet musically brilliant show leaving you no choice but to get off your seats and go 'Dancing in the Street'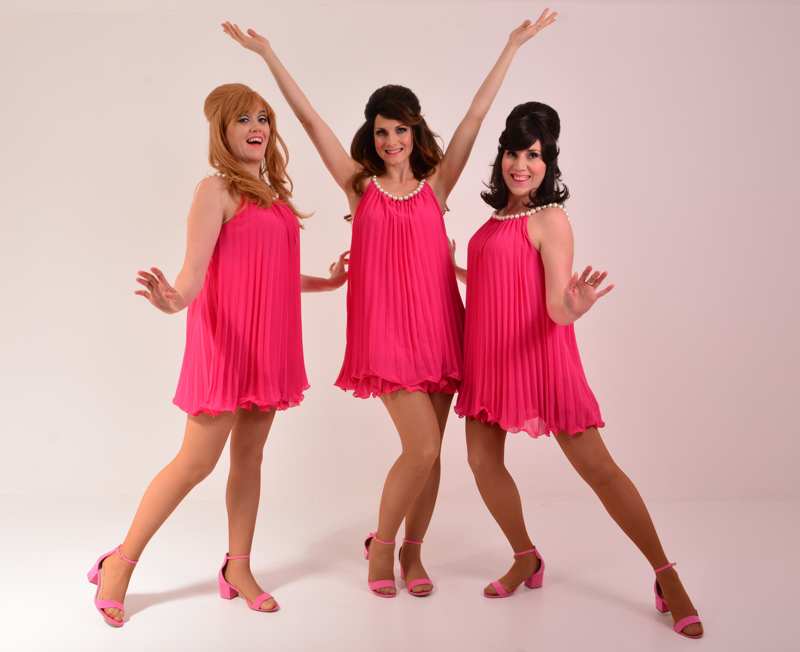 THE ICONETTES & THE HITZVILLES LIVE BAND
Now a hit Motown & Soul show in theatres across the country, they are described as fun & sassy with tightly choreography reflecting the times and power-house vocals. Along with plenty of interactive crowd pleasing moments throughout, they are the perfect homage to the Iconic girl groups of the Soul and Motown era.
Regularly performing harmoniously and 100% live as applauded during their featured live guest spots on BBC Radio Ulster, Talk Back show and Gerry Kelly show.
Band Line up:
Option 1: The Iconettes – 3pc Band
Includes: dedicated Sound Engineer, free band disco service (no DJ)
Option 2: The Iconettes & The Hitzvilles -8pc Band
Includes: dedicated Sound Engineer, free disco music (no DJ)
Option 3: add our specialised fully equipped Wedding DJ (additional fee)
EXTRAS: A FUSION OF ICONIC POP, DISCO & ROCK COVERS CAN BE ADDED UPON REQUEST & INCLUDED AS A SECOND SET
Show Formats:
RECOMMENDED SHOW FORMATS
30 mins – AFTER DINNER SPOT
60 mins – HIGH ENERGY NON STOP PARTY SET (AS SUPPORT OR MAIN ACT )
90 mins – HIGH ENERGY NON STOP PARTY PLUS (MAIN ACT)
2 X 50mins – FULL SHOW
FREE BAND DISCO SERVICE IS INCLUDED ALL FORMATS
BOOK OUR SPECIALIST COMPARE DJ TO HELP BOOST YOUR ENTERTAINMENT (ADDITIONAL FEE)
Extras
Free band disco service or background dinner music on all bookings.
Book us along with a dedicated specialised DJ/compare. We can provide you will our specialised DJ services for a small additional charge (recommended for shorter band sets for weddings, corporate events and Xmas parties)
*ATTENTION BRIDES & GROOMS * Your wedding day will be one of the biggest events of your life so make it special by booking us as your main entertainment. We can provide our wedding singer for your wedding ceremony HALF PRICE free of charge our gift to you! (terms and conditions apply)
REMEMBER!… A FUSION OF ICONIC POP, DISCO & ROCK COVERS CAN BE ADDED & INCLUDED AS A SECOND SHOW SET (CONTACT US FOR MORE INFO)
Travel & other
THE ICONETTES MOTOWN & SOUL BAND ARE AVAILABLE UK & WORLDWIDE
Travel expenses are included in the price unless otherwise stated at the time of booking.
Travel expenses will normally be incurred travelling more than 50 miles and outside of Northern Ireland
Where the band are expected to travel more than 3hrs or more overnight accommodation would be appreciated.