Perfect Illusion Lady Gaga Tribute
Put your paws up baby and add the perfect illusion to your event with the Irelands only Lady Gaga tribute.
Tricia McCluney Multi-tribute artist is now going Gaga with Perfect Illusion tribute to the monster lady herself. Complete with mind blowing costumes, 100% live vocals & featuring her sassy dancers 'The Gagettes' with their fast-paced routines and fearless attitude Perfect Illusion Lady Gaga Tribute could be mistaken for the world class performer herself!
The Lady Gaga Show based in Northern Ireland
We are proud to welcome yet another of Trisha's top class tribute acts to our roster. Now one of the UK's newest and exciting Lady Gaga tribute acts, offering an extremely convincing show dedicated to the world most unique pop phenomenon, Lady Gaga!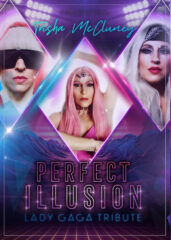 Extras
Free playlist party music or background dinner music
Book us along with a dedicated specialised DJ/compare. Our speciaised DJ services incurred an additional charge (recommended for weddings, corporate events and Xmas parties)
*ATTENTION BRIDES & GROOMS * Your wedding day will be one of the biggest events of your life so make it special by booking us as your main entertainment. Why not package us together as one of our lead vocalist becomes your wedding singer or entertainment for pre dinner drinks reception (all musical tastes catered for )
(terms and conditions apply)
Travel
AVAILABLE UK & Worldwide
Travel expenses will be incurred travelling outside a 60 mile radius of Belfast depending on location.
Costs and will be advised at the time of booking.