The Bjorn Identity Abba Tribute Band Perform in Rhodes 2019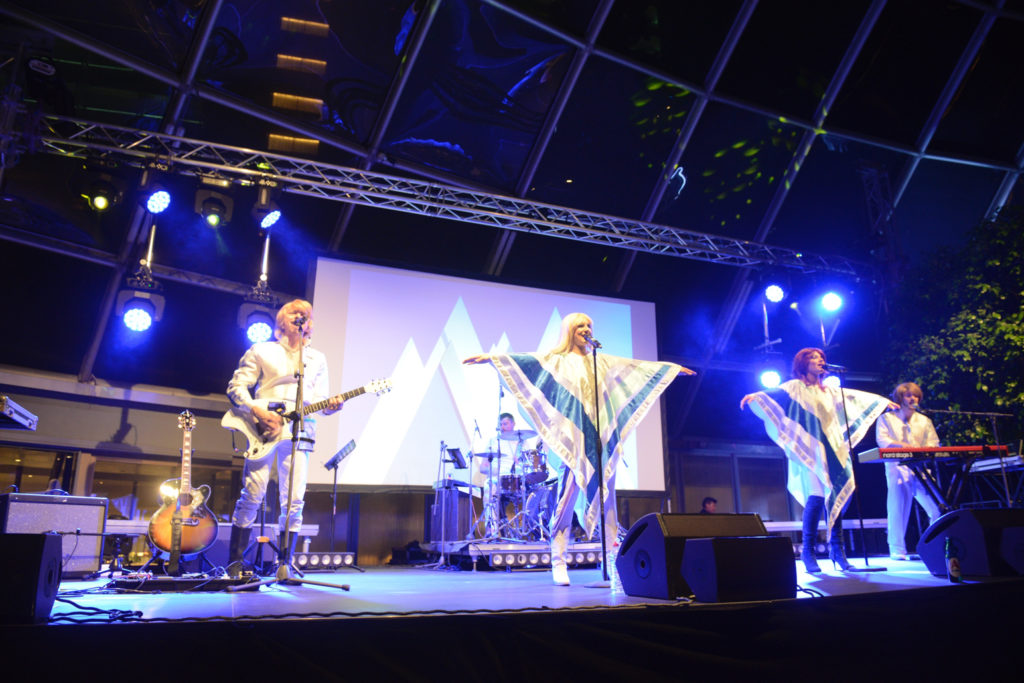 Still riding high on the news of winning the acclaimed title of 'Best Tribute Band' in the Ulster regional event Entertainment awards hosted by Book Entertainment, The Bjorn Identity Abba Tribute band have just recently returned from a smash hit, International debut performance on the Island of Rhodes, Greece.
"It's not every day you get to perform your Abba Tribute on a Greek Island with your best friends; our band" says Richard Doubleday, who plays Bjorn; which is ironically the country where the film Mamma Mia; based on the music of ABBA is set.
SUPER COOPER' ABBA TRIBUTE IN RHODES
The call for the The Bjorn Identity Abba Tribute band to entertain for an International company corporate event 'Coopervision' came last October when company event managers were set a mission to seek out and book a top live ABBA tribute show that could match through performance, the excitement of their brief. Their 'big announcement' in which Coopervision celebrated officially meeting their target of becoming the worlds No.1 Contact lense suppliers.
Enter:  Ireland's No.1 touring Abba tribute show – The Bjorn Identity.
Having worked tirelessly to bring an authentic look and sound into their recreation of ABBA in concert were humbled and overjoyed to be booked as first choice entertainment for this international event in Rhodes, allowing them, as a Abba band, to make their official overseas International performing debut. This was huge news for the Super group who could not wait to share their experience with you all!! ❤ ????????
Members of The Bjorn Identity, who are very close to their dedicated fans, kept in touch with them every step of the way on facebook social media.
"Hey guys. Well we made it!! After 2 flights and a 13hr journey from Northern Ireland to Rhodes. We settled in last night with an evening walk and even a quick dip in the sea, when work feels like a holiday you know you are in the best job ever"

Karen & Diana – Scattered driftwood on the beach

"Just finished our sound check in what feels like a massive sauna, in the Rodos Place 'Super Dome' or rather the aptly renamed but Coopervision "Cooper Dome" or should we call it the "Super Sauna', It's going to be a hot gig tonight!!"Over 400 excited employees celebrated being No.1 #supercooper.  We certainly feel like it today! they even supplied a giant hashtag"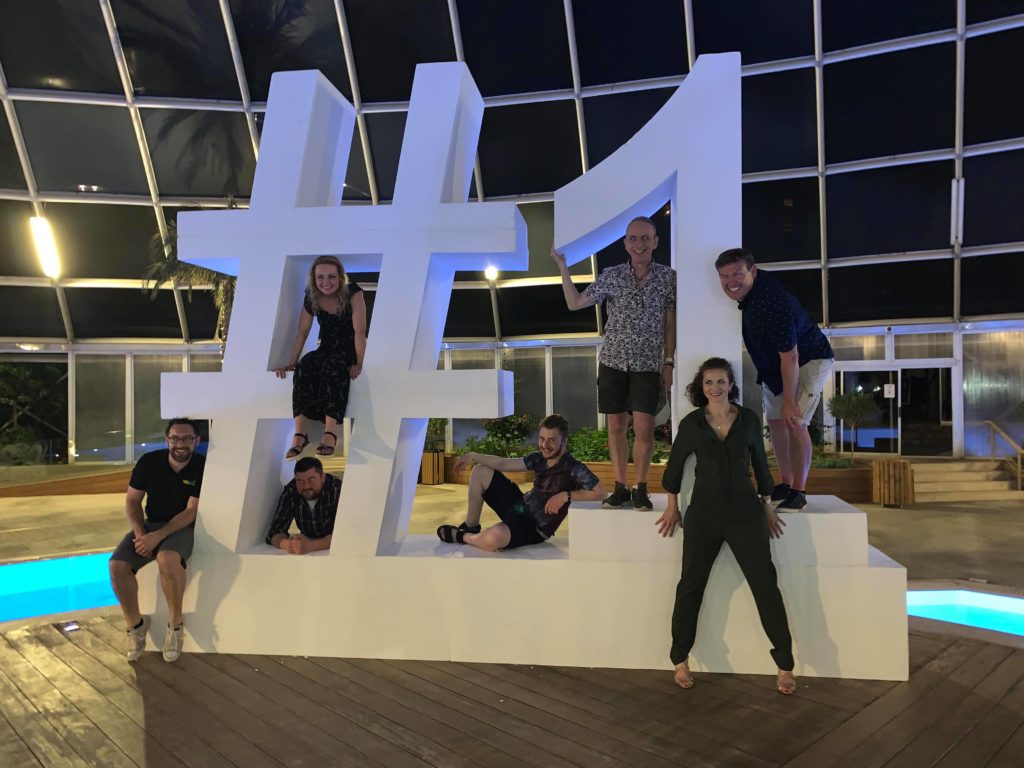 WORLDWIDE WORTHY ENTERTAINMENT FOR CORPORATE EVENTS
Of course this is not the first international or European Abba performance for individual band members, with Richard & Karen (Bjorn & Agnetha) the bands managers, having performed in the early naughties with their first few ABBA bands, touring Holland & Germany. Karen performed a stadium and theatre tour of Brazil in 2011, performed for Richard Branson on the Island of Barbados and has also performed to Russian government officials at The Kremlin Palace, Moscow back in 2004.
Is ABBAfact?: Karen aka Agnetha, actually made her Abba debut on a tour of Pakistan back in 1999 with a top function band she was performing with at the time!! 
Other members of the Bjorn Identity, have also toured Europe, played internationally with various professional theatre companies, tribute shows and are also are members of Ulster Orchestra.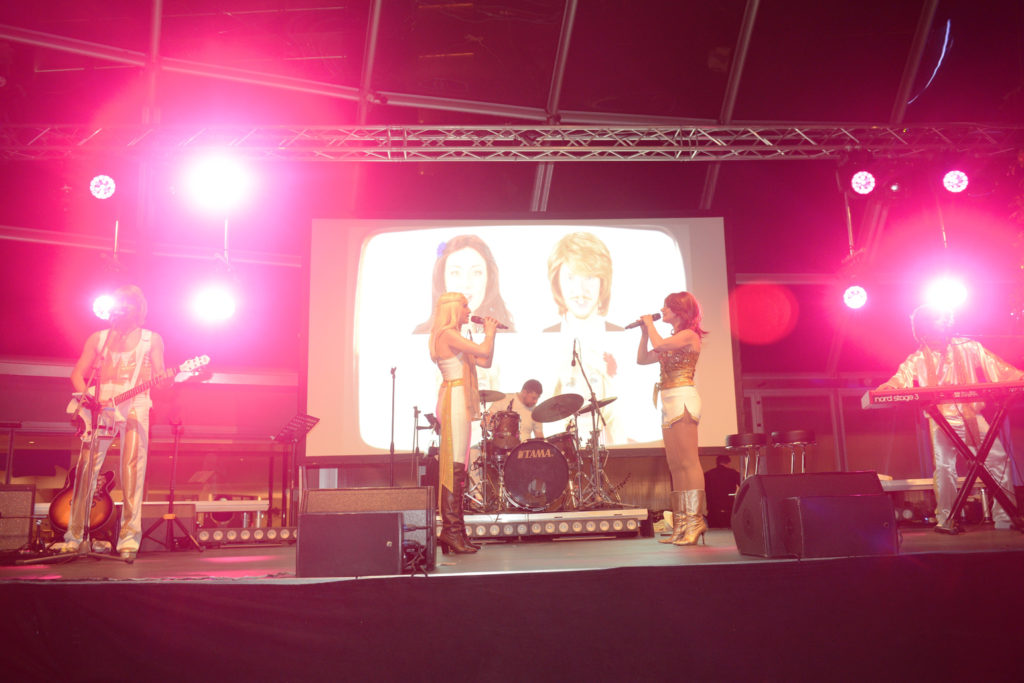 The Bjorn Identity are unrivalled in their dedication and achievement in looking and sounding as close to the real thing as possible. Performing the music of Abba should not be but if often underestimated both from a player-musician & vocalist point of view. There is no greater challenge to be met than trying to emulate the vocal sounds and physical charachters of admired musical icons such as ABBA. Their legacy is long and strong and their fan base can be critical of imposters trying to make a lazy quick buck off their music, of course there are those who just love the music and don't mind who performs it and thats ok too, but as fans of Abba, the Bjorn Identity and it's performers strive for perfection and their dedication and work ethic from production to performance has been noted and noticed by fans and event bookers all over Ireland, UK and now overseas.
Is it any wonder with such an experienced group of tribute artistes and musicians that word had spread across the UK and the band were highly recommended, head hunted but above all, and this is key;  trusted as the main entertainment for such an important event for their Corporate client in Rhodes. The event manager was so overwhelmed by the band performance on the night… they ran back stage to hug and kiss this top Abba group and have vowed to champion the band to get more exposure across the water! thats would wonderful but the band are grafters with humble beginnings, middle and hopefully will still be as humble and grateful at the end of their amazing journey as a tribute band.
"We would love more opportunity for the band to travel more with their show and have hope that promoters here and in the UK will finally see them as a credible tribute show that is worthy of the larger stage & audience. It's been a long road to where they are now and thank fully the brilliance of the music of ABBA is still being discovered but audience of all ages thanks to Mamma Mia" expressed Karen Rush, Manager at Musicon Entertainment.

"Yes, it's been hard to break through a certain market and some larger venues due to visiting companies coming over from England, its hard to shake to 'Local' tagline but as long as we have the stamina to keep up with the huge demand for our current venues here in Ireland we will continue to strive to create a high class, authentic tribute show that always goes the extra mile to make your event" adds Richard.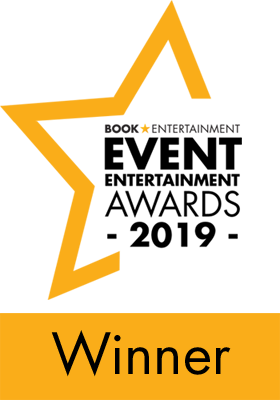 Musicon Entertainment provides entertainment for all types of corporate events, business awards, Gala events across Ireland & UK and now Worldwide. With clients returning year after year to re-book our top function bands based Northern Ireland.
Industry experienced and full time professionals in entertainment, at Musicon; we adopt a friendly and flexible approach, with a professional and clear understanding of the elements involved in created outstanding entertainment for  your events. Making us the perfect choice of entertainment suppliers for tribute bands and themed party bands in Ireland. Check out our testimonials on the link below and see what our happy clients think of us.
PROFESSIONAL VERIFIED TRUSTED REVIEWS
THE BJORN IDENTITY ABBA TRIBUTE SHOW
UPCOMING PUBLIC SHOW DATES 2022
Another hugely successful theatre tour last year – we thank you for all your dedicated support throughout our yearly calendar.
The Bjorn Identity are about the announce dates for their annual Autumn Theatre tour. Visit them on FACEBOOK for more recent news and MORE VERY BIG NEW TO COME LATER IN 2022… WATCH THIS SPACE!
Join their group Friends of The Bjorn Identity
Like OUR facebook page: MUSICON ENTERTAINMENT to catch up on news and offers about all our tribute acts as they come in.
COMING SOON !! – sign up to our mailing list for all events promoted and hosted by Musicon Entertainment, get announcements first and have the chance to enter our competitions to win tickets to any of our shows.
We the Artistes management, produce and supply acts direct to you. Many acts outside our management can also be sourced and supplied to you. Booking through us as experienced entertainers and act promoters ensures that you make the right and most informed choice of entertainment for your event.
WHY BOOK WITH US
If you are tired of seeing the same acts and bands at the same events over and over again and are looking for something completely unique but crowd pleasing to make your event stand out from the rest.
If you have been disappointed in the acts that have been supplied to you or unhappy with you usual entertainment supplier in Northern Ireland and beyond, then look no further.
All entertainment we supply is professionally vetted by us before recommending to you if we have not produced the show ourselves in house!
Visit OUR ACTS and check out their videos, audio, images and reviews of all our managed tribute bands. Remember we manage and perform… therefore cutting out  agent saving you time on endless emails back and further and money on extra booking fees on our managed acts.
Its all going on at Musicon! …. so let US entertain YOU!