ENTERTAINMENT AGENCY BOOKING BANDS FOR CORPORATE EVENTS UK & IRELAND
Top Tips When Planning Your Corporate Event
Every Corporate or private events planner knows to pay attention to the major things involved in creating a memorable occasion, but sometimes it is the little details that make all the difference in putting on a truly successful event, for example; making the right choice when booking your entertainment. A vital element to your evenings success, is sometimes not considered, until the very last minute.
Of course, there are pitfalls in delaying booking a first-class professional band for your event. It's well known fact the best party bands and tribute acts available across Ireland & UK, will be snapped up first, due to high demand. This can lead to disappointment, when clients haven't managed to secure their first choice in entertainment.
Musicon Entertainment have many years' experience providing high quality entertainment for Corporate businesses and events across Ireland with satisfied customers returning year after year to book one of the many themed bands we produce in house. If you are not sure where to start or which band to book there are many options you might like to consider as one band does will not fit all event requirements.
Deciding Your Theme
Here are a few of our Top Tips you might want to consider:
Choose a popular theme style to dress or help advertise your event
Is there a band available with music to match your theme!
Do you want a dancing band, DJ or speciality act
Do you want a standard cover band or a tribute show
Have you got the budget to cover your chosen entertainment
Always check out your entertainment live on stage or using live video footage
Always read verified reviews or get recommendations from previous clients
How many entertainment slots do you have
Have you left enough time to book the best act for your event
Have you got enough space for the act to perform
Do you have a AV & sound production company looking after your event
The above might seem pretty obvious but as we said, it's the little details which make all the difference. For example; if you want an ABBA theme your event; don't just book any Abba tribute band. Its easy to claim the be… the best, Ireland's finest, UK No.1, Europes premiere… they are just words after all BUT it IS important to check out ANY act before confirming a booking…Why?
There can there can be huge difference in quality, showmanship & musicianship. We always recommend you see a live show or at least a live performance on video and do your research before you decide to book.
TOP TIP!! – ALWAYS DO YOUR RESEARCH!
Over the years we have observed tribute acts hiding behind the mask of REAL artist images on their advertising. Possibly because they do not look the part or have poor quality marketing. Other times the venues can be guilty of this marketing technique, but we feel it's important to know what you are buying into before booking … so ask yourself, if their marketing is poor what is their performance like?
If your event is meant to bring employees together and create great memories, then it's a good idea to make sure the entertainment matches the tone and vibe of your event. How-ever in our experience, ABBA tribute bands are unique to this! And great example of booking a band they will pull a crowd or turn even the hardened Rocker into a fan of the Swedish pop sensations.
The music of ABBA is so popular with audiences across the board, they don't need to fit into a theme of its own.  An Abba Tribute band is the perfect choice of party band for any event. Due to the popularity of the Mamma Mia! Movies, ABBA is now reaching a much wider audience and guarantees to fill the dance-floor from the very first song.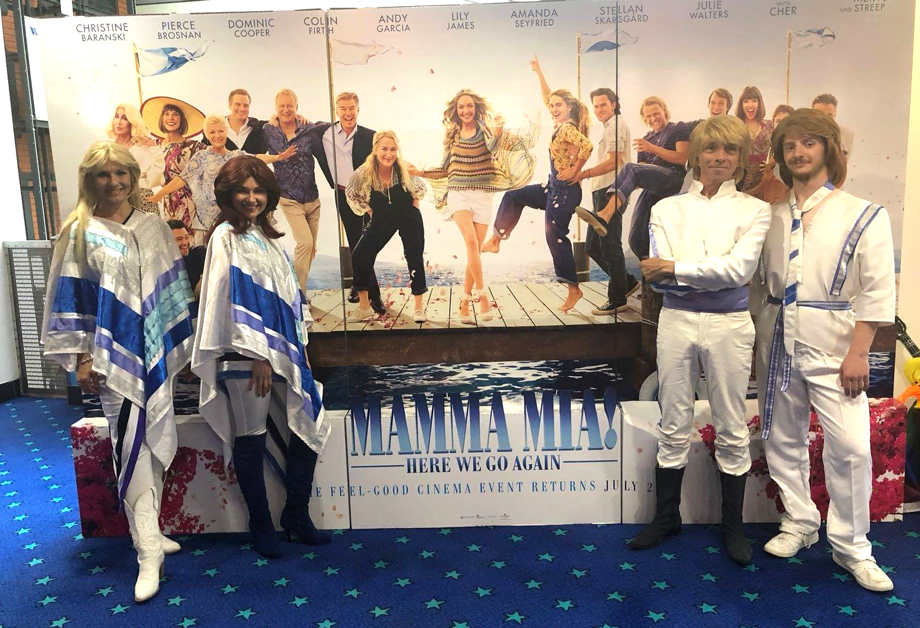 ---
We highly recommend –  The Björn Identity ® Abba Tribute Band. When its comes to this tribute acts we say, "seeing and hearing is believing". Not only are they a professional, full-time tribute show with the luxury of investing all their efforts into getting the details of the visuals & performance right, they are THE most in-demand tribute show on the circuit. It difficult not to fall in love with their performance, when they pay homage to your favourite pop icons, ABBA, with authenticity and respect to the original artists. Hailed but their dedicated fans as the finest, most authentic Abba tribute show in the country they have been taking Theatres, Festivals and Corporate events by storm since their conception in 2010. To audience acclaim; booking the Bjorn Identity is more like reliving Abba 'live in concert' no matter what the occasion and your event could not be in better hands.
For the best in themed Corporate Entertainment book, The Björn Identity ® Abba Show Ireland; boasting cast members with West End credits and International ABBA touring experience. Based in Co, Antrim, N. Ireland they are now Irelands favourite ABBA tribute show, perfectly located to cover all UK.
Visit their website for more info:  thebjornidentity.co.uk
Previous corporate Clients: Spirit of Northern Ireland, Hendersons Group, Randox Health, CooperVision Global,  Hastings Group, Wine Inns, Belfast City Council, Antrim & Newtownabbey, Belfast Pride, Newry Pride, NI Travel Awards 
---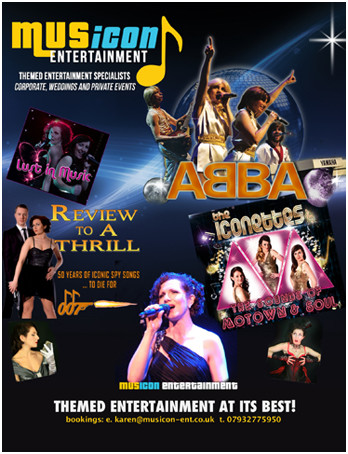 At Musicon Entertainment your enjoyment is important to us. Exceeding client expectations drives our business ethos. As the only entertainment company in NI that specialises in producing, managing and promoting all their acts in house with our team of highly talents performers our focus is on getting our shows as close to the real thing as possible and it's a full time job.
GET IN TOUCH with us at Musicon Entertainment and Productions for more information on how we can bring your best event ideas alive.
Check out OUR TRIBUTE BANDS to find one suitable for your event
FUN BANDS FOR PRIVATE PARTIES
Planning a party or special event?… don't know where to start? Don't have a big budget?
Don't worry! We can offer many services to aid in the planning of your event, available to suit most budgets. From wedding photography & videography, wedding singers in Northern Ireland, DJ's to iconic themed duo's so solo performers or specialist entertainment based in Northern Ireland