Themed Weddings Ireland: Top tips when booking your entertainment Ireland
You have said "YES!" and you have now set a date! You might be feeling a littel too excited to focus on what to plan for first. Well, aside from the obvious first step in good wedding planning; booking your dream wedding venue as soon as possible to secure your chosen date, we suggest booking your entertainment next!
But what do I want? … a DJ? a live Band… what kind of band? Where do I go to book?
Your head will be bursting with unanswered questions so let us help you along with some great wedding tips on deciding how to 'theme up' your wedding day.
Why should I 'theme up' my wedding?
Choosing a theme for your wedding will do you a lot of favours in the long run. Finding an exciting interesting style or central theme will help you focus all you ideas and save on stress. Once deciding on your theme, whether it is choosing the ever popular vintage bridal image which ties in easily with Swing & Jazz wedding music, your venue decor and styling being the deciding factor in your colour scheme or simply choosing your favourite musical genre and creating your ideal wedding look and feel based on this. Everything else should easily fall into place.
Whatever your choose to do… it is up to you! Many Brides feel overwhelmed and worry about how their guests will enjoy themselves… our advice doesn't!
In the many years Musicon Entertainment and our themed wedding bands, have been providing entertainment for couples across Northern Ireland and the Republic of Ireland; find that the happiest couples are the one that makes a decision based on their own personality and tastes. Once your guests see that you enjoy your special day they will be there with you 100% of the way, even if you choose a rock band and they love country music. What is important is that you spend your hard earned wedding budget on your favourite things.
We specialise in Music so here are our recommendations and ideas for themed acts to perform as you evening reception band.
The Abba Bride
Say 'I Do I Do I Do' all over again with Ireland's Number One Abba Tribute Band – The Bjorn Identity. Be a 'Dancing Queen' for one night only as you and your guests rush onto the dance-floor letting your disco diva run wild with some of the best pop hits ever to be penned by one pop group.
Booking an Abba Tribute band for your wedding will blow your guests away by adding a fun factor that you just won't get with a standard wedding function band. With dazzling costumes, and amazing re-creation of Abba in Concert at every performance you are not only booking a great live band but a top show; well know for their love of audience participation they will truly entertain your guests and have them talking about your wedding for years to come.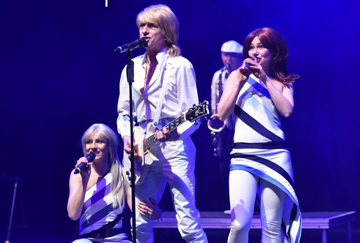 Here are a few optional ideas to style up your wedding look based on the ABBA theme:
* 70's & 80's colour neon colour or Swedish colours of yellow & blue on your chair tie-backs
* pop star themed cake toppers
* set up a prop corner for dress up photo opportunity
* Order an ABBA or 70's themed Standing Cardboard Cutouts (we have one in stock and can offer this free of charge)
* Book a Photo-booth with 70's themed props
* Disco coloured starlight Dance-floor
* Retro Sweeties Jars as table favours fun and budget friendly
* record your favourite Abba Song and gift it as a favour (we provide studio facilities and can add this to our packages)
* Light up wedding letters that say ABBA
The Vintage Bride with a difference!
One of the most popular and decadent Wedding themes around but what exactly is vintage? Well, it can really mean, anything old style or retro from 1920's Gatsby style to 1950's Rockabilly through to 1960's Motown. So don't feel you have to stick to a 1940's Swing theme.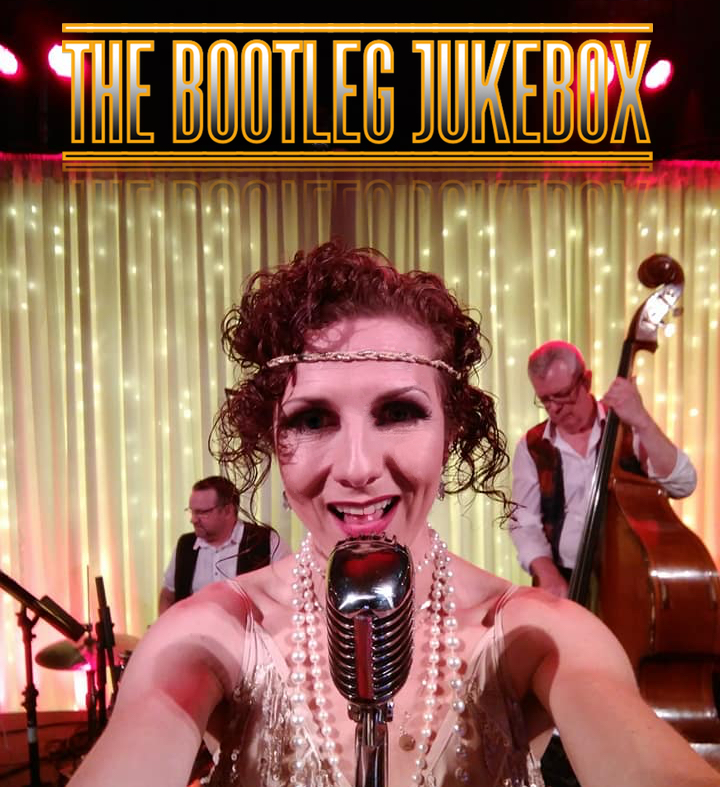 Musicon Entertainment have launched a new wedding band based in Northern Ireland The Bootleg Jukebox – a 'Postmodern Jukebox' inspired Vintage band, who put a song and a twist into the musical arrangements by re-working today popular covers such as 'All About the Bass', 'Stacey's Mom', 'Like a Prayer' and 'My Heart Will go On' adding that retro vintage swing into your evening event.
So if you are Looking for a live wedding band with a difference in Northern Ireland for your Vintage, Hollywood, Gatsby or Rockabilly styled Wedding day, The Bootleg Jukebox give you and your guests no other option but to kick off their heels on the dance floor.
Theme it up Vintage style:
* Choose your ultimate Vintage wedding dress and accessories
* 1920's Gatsby, Charleston, 30's, 40's, Rockabilly style Bridesmaid dresses that compliment you.
* Book your hair & MUA who works with Vintage themes
* Themed cake toppers
* Set up a prop corner for dress up photo opportunity
* Order a Gatsby, Hollywood Oscars, or 60's themed Standing Cardboard Cutouts
* Book a Photo-booth within your chosen themed with appropriate props
* Black or white starlight dance-floor
* vintage table & room decorations
* The classic Wedding cars
* Swing and Jazz singer or band for pre-dinner drinks entertainment – Book Karen Rush
* Burlesque & Swing Cabaret Singer for a short after dinner spot – Book Miss Rita Von Chic
* Old style flowers in your button holes and bouquets such as rustic wildflowers, lavender, pink or white roses and baby's' breath.
* Release White turtle doves
* Source your favourite vintage singles record as a wedding favour.
The 60's & Motown-themed Wedding
If your favourite Music genre is the 1960s then there is no better music that that of the Motown era. With great artists such as The Supremes & Diana Ross, Aretha Franklin, Martha & the Vandellas, Tina Turner, The Ronettes and the Jackson Five, yet again another genre of music that re-ignites people's memories of the yesteryear and the good times they shared in their youth. With the success of Motown the Musical, this well-loved era of musical brilliance makes for a brilliant choice in Wedding band which will keep all the guests happy and on the dance-floor.
The Iconettes Motown band are creating a lot of excitement as the only female vocal harmony group dedicated to the sounds of Motown & Soul based in Belfast, Northern Ireland. They are described as a fun & sassy with their tightly choreographed & interactive crowd-pleasing homage to the iconic girl groups of the Motown & Soul era, these ladies re-live it for you live on stage. Available as a 3pc or 8pc live big band.

Swinging it like the 60's:
* Mods & Rockers theme wedding outfits
* Black and White chair tie-backs
* Arrive at the church in a vintage Mini or Motorbike with Sidecar
* Your favourite 60's Pop-star themed cake toppers
* Set up a prop corner for dress up photo opportunity
* Order 60's Motown-themed standing cardboard cutouts of the Supremes
* Book a Photo-booth with 60's themed props
* Black or white coloured starlight dance-floor
* Source your favourite vintage singles record as a wedding favour.
* Retro Sweeties Jars as table favours fun and budget friendly
The Groom who loves James Bond
For the Bond movie lovers – Review to A Thrill – James Bond Themed Party Band Northern Ireland are not only classy, unique but a truly versatile wedding band.
Diverse themed party band Review to A Thrill is based in Belfast, UK are produced by Musicon Entertainment. This glamorous James Bond styled tribute & wedding cover party band provide the ultimate live music experience to die for!
One of the most exciting bands to hit the entertainment tribute music scene based in Northern Ireland and is unparalled in what it offers as entertainment. Perfect for a Casino nights, Corporate Entertainment & Bond themed events.
Don't worry if you don't want to hear Bond songs all evening.
This stunning 8/9pc big band also provides a second set for dancing the night away with a huge repetoire of covers song from Buble to Abba, Garth Brooks to Bruno Mars. The ultimate wedding show band has arrived!

The James Bond: Hollywood movie star themed Wedding ideas:
* Choose your ultimate glamorous wedding dress and accessories
* Bridesmaid dresses that compliment you.
* Book your hair & MUA who works with red carpet event themes
* Black tie event
* Bond Movie themed cake toppers
* Name your tables after your favourite James Bond Movie
* Set up a prop corner for dress up photo opportunity
* Order a Hollywood Oscars or Bond themed standin cardboard cut outs
* Book a Photo-booth within your choosen themed with appropriate props
* Black or white starlight dance-floor
* Spy movie table decorations
* Selfie Mirror (book as part of our packages)
* Book the DB5 or Astin Martin as a wedding gift for your hubby
* Book a Bond Lookalike to roam around your table during dinner.
* add a Casino to entertain guests after the ceremony while you are having your photos taken
* Corgi toys as a wedding favour
* Have the hotel mock up for your guest 1 complimentary Vodka Martini shaken not stirred for pre-dinner drinks
* Book a pop up Martini Cocktail bar
* Bond themed cocktail menus
This is just the top wedding tip of the iceburg when it comes to booking a themed wedding. Why book what everyone else is bound to have seen at Joe blogs wedding last month. What is important is that your base your ideas on your personalities, that way the ideas should come flooding in.
originally published on creativehand.wordpress.com
WHY BOOK MUSICON WEDDING ENTERTAINMENT
We only supply the most experienced professional musicians & bands for weddings in Northern Ireland. Each band offering bespoke package tailor made to suit any budget and still adding that something outrageously special to your wedding day.
So if you are tired of seeing the same wedding bands all the time and are looking for something completely different to make your event unusual or stand out from a crowd then look no further. All entertainment we supply is professionally vetted by us before recommending to you.
Visit OUR BANDS and check there live videos, audio and images
** Remember we manage and perform… therefore cutting out the agent middle man…saving you money on booking fees!
Musical mood and exciting atmosphere enhanced with a themed band perfectly tailored with you and your guests in mind!
*** TOP TIP OF THE DAY ***
Do not be fooled by glamorous pop star styled location wedding band promo videos? A decent videographer and sound engineer can make any band look and sound amazing having recorded and mixed their promo in a studio editing suite but what do they sound like LIVE.
We have discovered a huge trend in wedding band promotional pop videos sweeping the market but there can a marked difference between what you will see on Youtube or Facebook to how the band will sound live on the evening of your special day. This can be misleading! We recommend you book a band that promote themselves using live footage or if you can get the chance, always see them perform a live set before book.
UPCOMING GIG DATES TO VIEW ANY OF OUR BAND LIVE
If you are looking for unusual and unique wedding entertainment suppliers that will go far beyond what is expected to provide the right entertainment for your event in Ireland then get in touch for a free consultation to discuss your wedding music.
CONTACT – Musicon Entertainment & Productions
Originally published at creativehand.wordpress.com on July 03, 2017.