Ireland's top Abba Tribute Show – The Bjorn Identity in Concert – Theatre Tour Dates 2017
Musicon Entertainment proudly presents: Abba Tribute show – The Bjorn Identity – Re-creating Abba in Concert live on Tour 2017.
Embarking on their 6th successful theatre tour Northern Ireland – The Bjorn Identity are without a doubt Ireland's best loved and admired Abba Tribute band, taking audiences by storm since 2010 with their faithful and truely authentic tribute to the world's best loved 70's Super Group ABBA.
With an 8 date tour including all their most popular returning theatre venues in Northern Ireland, Theatre at the Mill Newtownabbey, The Market Place Theatre Armagh and Ardhowen Theatre Enniskillen, we are delighted to be returning once again to The Burnavon Theatre Cookstown whose love of Abba is obvious from their audience reactions last year during the popular sing-along moments of The Bjorn Identity Abba Tribute concerts.
In addition Musicon Entertainment have added The Braid Theatre Ballymena to this years tour and hope this will be a popular return of our Abba Show to the venue after the band appeared there 2 years ago as part of Smiles Charity Fundraiser.
The news is out! … The Bjorn Identity's 7 year rise to tribute band popularity with audiences across Ireland have made many sit up and pay attention. Musicon Entertainment and Productions Northern Ireland are proud to be bringing Ireland's Number 1 homegrown Abba Tribute Show to the Grand Opera House, Belfast in association with  David Hull Promotions. To say we are delighted in an understatement! The Bjorn Identity 2 hr pure Abba concert will feature a 7pc live band and performances from local children's choir… to be announced! (if your children's choir want to be part of our performance  and have the opportunity to perform on at The Grand Opera House Belfast stage; get in touch with us!)
Tickets are now on sale at ALL venues and early booking is advised!
For more information on the Abba tribute tour show tickets, concessions & group discounts please contact the THEATRE VENUE – BOX OFFICE
Further info on The Bjorn Identity Abba Tribute show Ireland can be found on their website www.thebjornidentity.co.uk
THE BJORN IDENTITY ABBA SHOW – THEATRE TOUR DATES 2017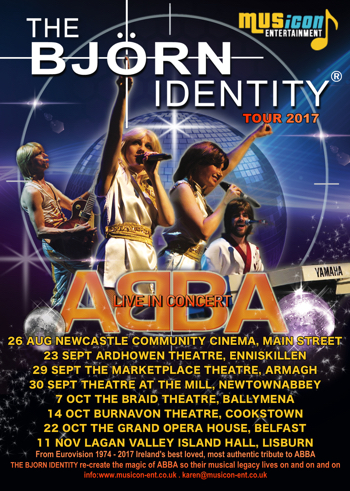 The Bjorn Identity Abba Tribute Band Ireland – Promo Video 2017
BOOK A BAND THROUGH MUSICON ENTERTAINMENT NORTHERN IRELAND
If you are tired of seeing the same acts and bands all the time and are looking for something completely different to make your event stand out from a crowd… or of you have been disappointed in the acts that have been supplied to you unhappy with you entertainment supplier in Northern Ireland, then look no further. All entertainment we supply is professionally vetted by us, before recommending to you.
Visit OUR BANDS and check out videos, audio and images of our managed bands… remember we manage and perform… therefore cutting out the agent middle man…saving you money on booking fees!
Its all going on at Musicon! …. so let US entertain YOU!