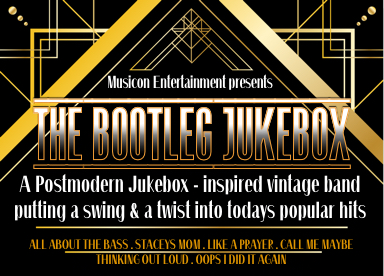 The Bootleg Jukebox - A Postmodern Jukebox Inspired Cover Band
Looking for a live Jazz and swing band Northern Ireland for your vintage, Hollywood or Gatsby styled event that will give your guests no option but to kick off their heels on the dance-floor, then look no further.  The Bootleg Jukebox is a modern Jazz & Swing Band with a difference!
Taking inspiration from the famous Youtube and Worldwide touring sensation, Scott Bradlee's Postmodern Jukebox Band; which re-works popular covers such as 'All About the Bass', 'Stacey's Mom', and 'Like a Prayer' putting a retro vintage swing and a twist to today's popular chart hits.
If you want a Jazz band for AND a party cover band for your event across Ireland and Northern ireland but don't have the budget for both…then book The Bootleg Jukebox.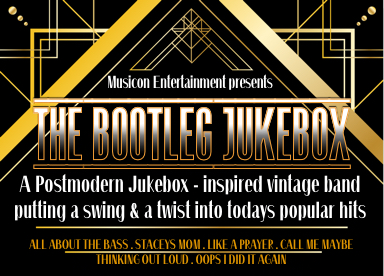 Vintage (Gatsby or Speakeasy style) themed weddings & events love this band. Their image that reflects the musical style of yester-year whilst the songs are recognisable to guests of all ages as they churn out one popular hit song after another.
Congratulations! you have found the perfect, stylish wedding, corporate band Northern Ireland.
THE BOOTLEG JUKEBOX
A POSTMODERN JUKEBOX INSPIRED BAND PUTTING A SWING & TWIST INTO TODAY POPULAR HITS
THINKING OUT LOUD – HOLLYWOOD JAZZ
MY HEART WILL GO ON – 50'S VINTAGE JAZZ
CARELESS WHISPER – 30'S VINTAGE JAZZ
SINGLE LADIES – VINTAGE "CHIGAGO FOSSE STYLE"
BAD ROMANCE – 1920'S GATSBY STYLE
THONG SONG – 30'S VINTAGE JAZZ
ALL ABOUT THE BASS – 30'S JAZZ
CALL ME MAYBE – NEW ORLEANS JAZZ / ROCK
MATERIAL – 1920'S GATSBY STYLE
I KISSED A GIRL – 50'S DO WOP
HEART OF GLASS – 40'S HOLLYWOOD STYLE
I WILL SURVIVE – VINTAGE JAZZ/LATIN BALLROOM
POKERFACE – 1946 BIG BAND STYLE
OOPS I DID IT AGAIN – MARYLIN MONROE STYLE
LIKE A PRAYER – VINTAGE 40'S SWING
SHAKE IT OFF – VINTAGE MOTOWN
BURN – 60'S GIRL GROUP
BARBIE GIRL – BEACH BOYS STYLE
CANT STOP THE FEELING – NEW ORLEANS STYLE
DONT STOP ME NOW – QUEEN/TINA TURNER/SOUL STYLE
Bands Line up:
4pc – Female vocals, keyboard, bass, drums
5pc – Female vocals, keyboard, bass, drums, saxaphone
7pc – 2 x female vocals, keyboard, bass, drums, saxaphone & tap dancer
7pc show is full theatre style production – recommended for Theatres, Festivals, Cabaret Nights and large Corporate Events
Show Formats:
1 x 60min – After dinner set
2 x 60mins – Pre-dinner drinks & Evening Band
3 x 40mins – Evening Band
2 hr – theatre style show
featuring brilliant repertoire of the most popular modern pop songs, all performed in a vintage, Swing & Jazz style band.
Special request performed
Extras
Free pre-mixed disco before and after live sets (tailored to your tastes)
Book us along with a dedicated specialised DJ/compare. We can provide you will our specialised DJ services for a small additional charge (recommended for weddings, corporate events and Xmas parties)
*ATTENTION BRIDES & GROOMS * Your wedding day will be one of the biggest events of your life so make it special by booking us as your main entertainment. We can provide our wedding singer for your wedding ceremony HALF PRICE
(terms and conditions apply)
Travel
UK & Worldwide
travel expenses will be incurred travelling outside of Northern Ireland.
Date

June 14, 2017

Categories

No Category