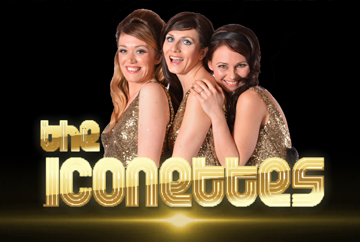 The Iconettes Motown & Soul Wedding Band
THE ICONETTES MOTOWN & SOUL WEDDING BAND NORTHERN IRELAND ARE A FRESH AND EXCITING MUSICAL HOMAGE TO THE FAMOUS GIRL BANDS AND DIVAS OF THE 60' & 70'S MUSIC ERA
The Iconettes glamorous image and iconic 60's & 70's soul & Motown musical influences make this band a huge hit with fun Weddings across Ireland. The Supremes, The Ronettes, The Three Degrees, The Marvelettes and Marth & the Vandellas create just some of the template for this stunning music reproduction of the golden era of early Rnb, Motown & Soul.
The Iconettes Motown Girl Group are creating a lot of excitement as the only female vocal harmony group dedicated to the sounds of Motown & Soul based in Belfast, Northern Ireland. They are described as a fun & sassy with their tightly choreographed & interactive crowd pleasing homage to the iconic girl groups of the Soul and Motown era, which is enjoying a much welcomed re-vival and these ladies re-live it for you live onstage.
There is no comparison to these girls their act is fresh, versatile, glamorous and vocally stunning!" – Karen Rush, Manager of Musicon Entertainment

Performing harmoniously and 100% LIVE; as applauded during their featured guest spots on BBC RADIO ULSTER – TALK BACK sending their twitter feed crazy!
Endorsed on Twitter by the former Lord Mayor of Belfast after their performance at SOLD OUT audience for Una mcCrudden Gala Fundraiser for NI Hospice.
There Ain't no Motown High Enough @TheIconettes have everyone on the dancefloor for what could be an Una Crudden Theme tune -Nicola Mallon, Lord Mayor of Belfast

LATEST NEWS!
Since their launch in 2015 they taken new audiences; now fans by storm with their new Theatre show backed by their 100% live by their 5pc band The Hitzvilles.
The Iconettes & The Hitvilles - Sold out at Antrim Courthouse Theatre
Band Line up:
Option 1: The Iconettes – 3pc Band
Includes: dedicated Sound Engineer, free band disco service (no DJ)
Option 2: The Iconettes & The Hitzvilles -8pc Band
Includes: dedicated Sound Engineer, free disco music (no DJ)
Option 3: add our specialised fully equipped Wedding DJ (additional fee)
EXTRAS: A FUSION OF ICONIC POP, DISCO & ROCK COVERS CAN BE ADDED UPON REQUEST & INCLUDED AS A SECOND SET
Show Formats:
RECOMMENDED SHOW FORMATS
30 mins – AFTER DINNER SPOT
60 mins – HIGH ENERGY NON STOP PARTY SET (AS SUPPORT OR MAIN ACT )
90 mins – HIGH ENERGY NON STOP PARTY PLUS (MAIN ACT)
2 X 50mins – FULL SHOW
FREE BAND DISCO SERVICE IS INCLUDED ALL FORMATS
BOOK OUR SPECIALIST COMPARE DJ TO HELP BOOST YOUR ENTERTAINMENT (ADDITIONAL FEE)
Extras
Free band disco service or background dinner music on all bookings.
Book us along with a dedicated specialised DJ/compare. We can provide you will our specialised DJ services for a small additional charge (recommended for shorter band sets for weddings, corporate events and Xmas parties)
*ATTENTION BRIDES & GROOMS * Your wedding day will be one of the biggest events of your life so make it special by booking us as your main entertainment. We can provide our wedding singer for your wedding ceremony HALF PRICE free of charge our gift to you! (terms and conditions apply)
REMEMBER!… A FUSION OF ICONIC POP, DISCO & ROCK COVERS CAN BE ADDED & INCLUDED AS A SECOND SHOW SET (CONTACT US FOR MORE INFO)
Travel & other
THE ICONETTES MOTOWN & SOUL BAND ARE AVAILABLE UK & WORLDWIDE
Travel expenses are included in the price unless otherwise stated at the time of booking.
Travel expenses will normally be incurred travelling more than 50 miles and outside of Northern Ireland
Where the band are expected to travel more than 3hrs or more overnight accommodation would be appreciated.
Date

May 13, 2017

Categories

No Category