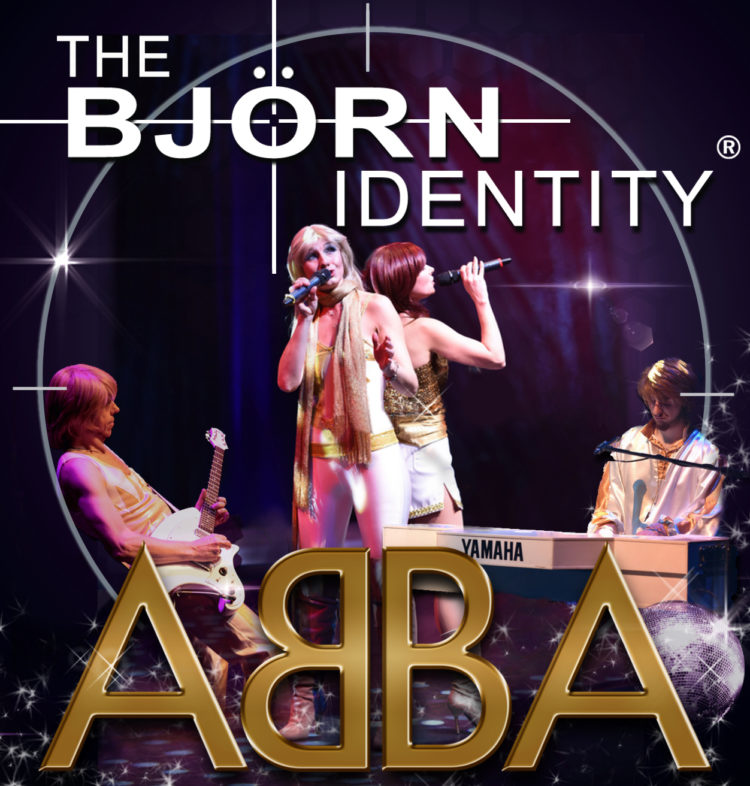 THE BJORN IDENTITY ABBA TRIBUTE BAND UK & IRELAND
The Bjorn Identity are undoubtedly Ireland's best and most authentic Abba Tribute band, taking theatre venues by storm since 2010 with their faithful tribute to the world's best loved 70's Super Group ABBA.
This amazing looking and sounding Abba Tribute band based in Belfast, Northern Ireland will astound you with their attention to detail, playing tribute to their music idols. A full time professional Abba tribute band bringing passion to their performance, the musical sound-track that has shaped all of our lives!
Along with professionally handmade exact replica costumes, a good second place to Agnetha's famous 'Rear of the year' and wait for it; a real life married couple!
With 100% live vocals, and every member playing live instruments, they are the only Abba tribute in Ireland to feature a replica white Yamaha keyboard.
The Bjorn Identity are a sell out ABBA tribute show in Theatres around  UK and Ireland and going into their 10th year on the road are a well seasoned tribute act at the top of their game. They continue to exceed expectations, astounding audiences and fans with their stunning vocal performances which are frighteningly close to the real thing.
They Bjorn Identity are a tribute band for fans of all things ABBA and are experts in re-creating an authentic ABBA in concert experience no matter what the occasion.
For more info you can check out their website www.thebjornidentity.co.uk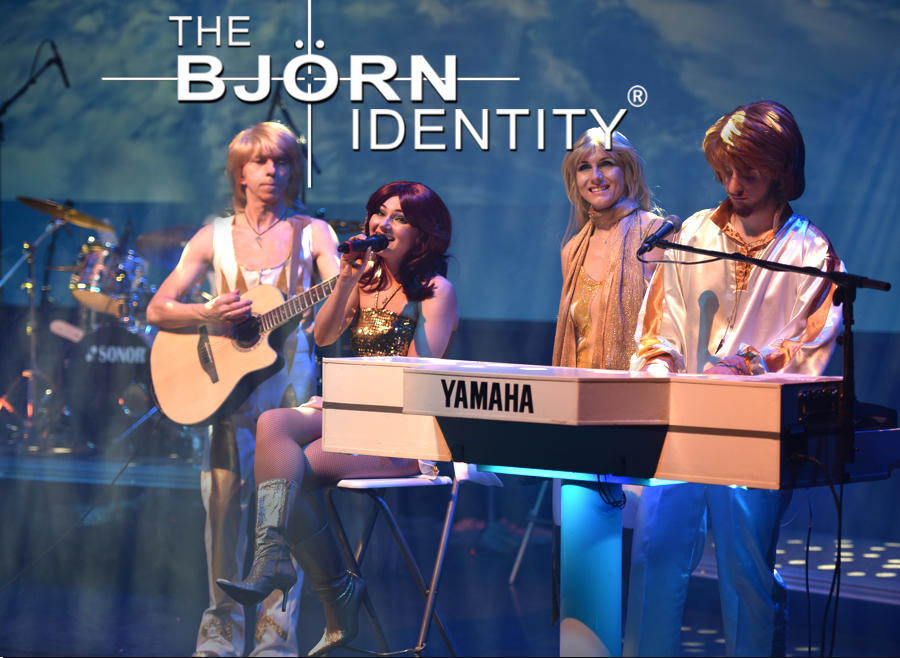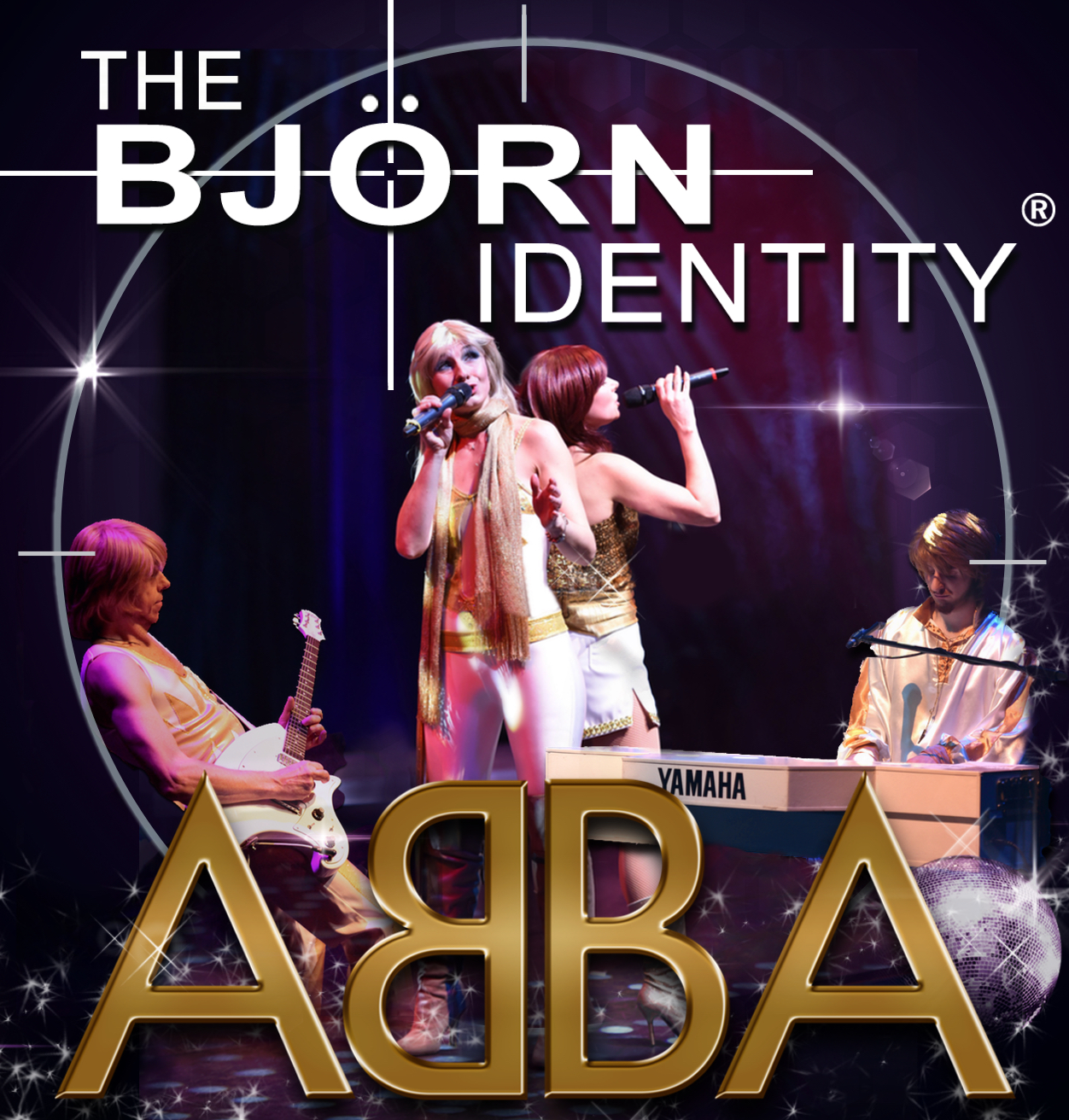 Bands Line up:
4pc – Agnetha, Frida, Bjorn Guitarist, Benny Keyboard
5pc – Agnetha, Frida, Bjorn Guitarist, Benny Keyboard, Drummer
6pc – Agnetha, Frida, Bjorn Guitarist, Benny Keyboard, Drummer, Saxaphonist
Show Formats:
60 min – HIGH ENERGY NON STOP PARTY SET (AS MAIN ACT or SUPPORT)
75 mins – UPBEAT SET PLUS SLOW NUMBERS (AS MAIN ACT, OR SUPPORT)
90 mins – FULL HIGH ENERGY FULL SHOW CONDENSED (MAIN ACT OR SUPPORT, WEDDINGS OR XMAS PARTIES)
2 x 50 min – COMPLETE ABBA GREATEST HITS SHOW (MOST POPULAR SET CHOICE AS MAIN ACT)
2hr production – THEATRE STYLE EVENTS ONLY (CONTACT US FOR FURTHER INFO)
Extras
Free playlist party music or dinner background music
Book us along with a dedicated specialised DJ/compare. We can provide you will our specialised DJ for an additional charge (recommended for weddings, corporate events and Xmas parties)
*ATTENTION BRIDES & GROOMS * Your wedding day will be one of the biggest events of your life so make it special by booking us as your main entertainment. (available for weddings only early daytime set up is available)
Travel
UK & Worldwide
travel expenses will be incurred travelling outside of Northern Ireland.
The Bjorn Identity Tour dates UK & Ireland
2019/20
Date

April 26, 2017

Categories

No Category