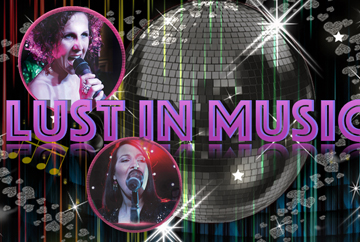 Lust in Music Wedding Party Band
Lust in Music are a female fronted duo or 5pc Party cover band, Northern Ireland. This energetic DISCO, FUNK & SOUL BAND are Guaranteed to bring you'Good Times' promising all dancing queens will have the time of their lives. So get into the groove with us and book now!
Lust in Music Wedding band from Belfast, Northern Ireland. More than your standard wedding & function band they are versatile as well as entertaining.
WE LOVE 70'S & 80'S
With a huge love for the 70's 80′ music era they are one of the most fun wedding party bands available in Northern Ireland. They cleverly re-create the look and feel of the roller disco era with an irresistable dance-floor filler playlist spanning over 3 decades.
Karen Rush (Musicon Entertainment) and Tricia Murphy Vocalist are two extremely versatile singers from Belfast and have been singing together for a number of years. As experienced wedding singers they both have a large a varied repetiore of songs to get your wedding party on the dance-floor.
This band is not a one trick pony. Including in their set is a variety of popular covers songs. Set lists are not exclusive and can be tailor made to suit the musical taste of all of your guests.
Book Lust in Music now for a unique fun party band or 70's & 80's themed.
THE PURE DISCO SHOW
Step back in time with Lust in Music!!
Book this party duo or 5pc band and a fully costumed show for a real dose of pure 70's & 80's Nostalgia! Great for hotel tribute nights, private parties, golf clubs, weddings and themed nights.
As a 2pc band, Lust in Music are the perfect party band for you wedding. especially if you are on a smaller budget.
Karen and Tricia, highly experienced and talented singers combining their stage presence with a fun party band approach to entertaining your guests. This dynamic function band specialise in re-creating some of the best of retro pop band hits, with their FULL set list spanning almost five decades of music catering for all styles of musical tastes.
Band Line up:
option 1: Lust in Music – 2pc
Includes: dedicated Sound Engineer, free band disco service (no DJ)
Option 2: Lust in Music 5pc live band
Includes: dedicated Sound Engineer, free disco music (no DJ)
Option 3: add our specialised fully equipped Wedding DJ (additional fee)A FUSION OF ICONIC POP, DISCO, FUNK & ROCK COVERS CAN BE ADDED UPON REQUEST & INCLUDED AS A SECOND SET
Free band disco service or background dinner music on all bookings.
Show Formats:
RECOMMENDED SHOW FORMATS
30 mins – CABARET SPOT
60 mins – HIGH ENERGY NON STOP PARTY SET (AS SUPPORT OR MAIN ACT )
90 mins – HIGH ENERGY NON STOP PARTY SET WITH SLOW SONGS (MAIN ACT)
2 x 1hr – FULL SHOW PLUS DJ SET
Extras
Free band disco service or background dinner music on all bookings.
Book us along with a dedicated specialised DJ/compare. We can provide you will our specialised DJ services for a small additional charge (recommended for shorter band sets for weddings, corporate events and Xmas parties)
*ATTENTION BRIDES & GROOMS*
First dance is sung live
Book us as your main entertainment. We can provide your wedding singer for your ceremony HALF PRICE (terms and conditions apply)
REMEMBER!… A FUSION OF ICONIC POP, DISCO & ROCK MUSIC STYLES CAN BE ADDED UPON REQUEST (CONTACT US FOR MORE INFO)
Travel
lUST IN MUSIC WEDDING BAND ARE AVAILABLE UK & WORLDWIDE
Travel expenses are included in the price unless otherwise stated at the time of booking.
Travel expenses will normally be incurred travelling more than 50 miles and outside of Northern Ireland
Where the band are expected to travel more than 3hrs or more overnight accommodation would be appreciated.
Date

May 13, 2017

Categories

No Category